April 2, 2018
For the second year, scientists from Arizona State University's Biodesign Institute and artists from the Herberger Institute for Design and the Arts have partnered for one-night-only performances of "Science Exposed: Bringing Science to Life through the Arts" that combine creativity, sound, dance and scientific curiosity.
Nine scientists have teamed up with 18 students to create 13 innovative artistic collaborations that explore the effects of Lyme disease, how opportunistic germs can exploit the human body, and discussions of human behavior, sex and AIDS, among others. The teams have been practicing the past few weeks at the Biodesign building.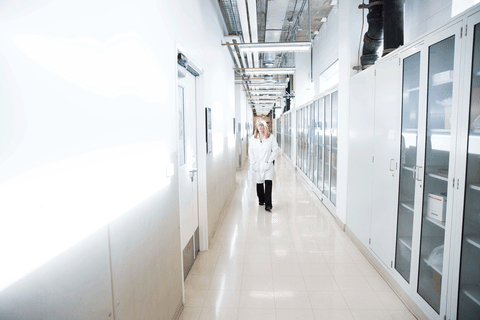 ASU researcher Christine Lewis. Image by Deanna Dent/ASU Now

Dance legend, choreographer, MacArthur Fellow and Herberger Institute Professor Liz Lerman has brought her students to the Biodesign laboratories to create an artistic experience that illustrates research and scientific work.
"We're so happy to partner with Biodesign for a second year as we move forward in exploring the relationship between pedagogy, research and the interdisciplinary practices of art and science," Lerman said. "After nine generous and curious scientists told us about their work, the students selected one to partner with and then went on to work together to make something that is partly legible, partly personal and partly informative."
These performances, which will be showcased all throughout the Biodesign building, aim to spur creative thought and cross interdisciplinary borders, and to communicate and educate the public on different ways of seeing the issues of our time.